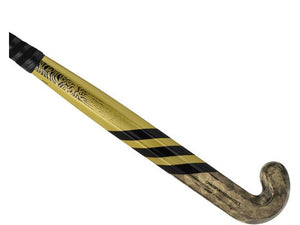 Adidas Chaosfury Kromaskin 2022/23
£140.00

£140.00

Save £110
Tax included.
Shipping
calculated at checkout.
---
---
A softer feeling stick from the Chaosfury franchise for the player that wants an increased level of touch and feel without compromising power. Hypetex Kromaskin technology in the head of the stick increases consistency so you can have complete trust in every move.
BOW: Ultra Low Bow - AX Shape - 200mm/24mm
HEAD SHAPE: Pure Control
TECHNOLOGY:
·         KROMASKIN / PARTIAL STICK KROMASKIN COVERAGE: Ultra thin carbon fibre material wrapping the stick shaft, taken from F1 Racing Technology, that improves both the look and the structural performance of the stick.
·         SPREAD TOW CARBON: Higher strength to weight ratio than a standard carbon lay-up, increasing the power generation and durability of the stick.
·         3D GEOMETRY: The unique adidas stick shape that stiffens the shaft, giving increased hitting power and a cleaner, sharper finish. The cut away under side of the stick helps to lift the ball more easily.
·         COMPRESSION CORE: Located in the head of the stick, a hybrid core that expands during manufacturing to compress the composite layers, creating a stronger stick with a more consistent structure. It enhances the sweet spot and improves responsiveness when passing and receiving the ball.
·         ACT EDGE: An advance composite tech material made from high impact nylon that prevents damage and reduces vibration, strategically placed on the reverse edge.
---
We Also Recommend