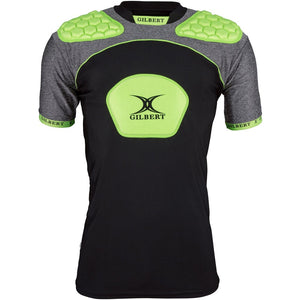 Gilbert Atomic V3 Shoulder Pads Junior
Tax included.
Shipping
calculated at checkout.
---
---
As your rugby develops at school or your club, players are becoming more physical which increases the risk of injury. In these cases, the best body armour is required.
Gilbert have designed the Atomic V3 Body Armour, with a name defining its every purpose, this body armour gives the player not only automatic power, but the confidence to dominate the field. The flexible zone padding offers a shield to the shoulders with additional padding to the sternum – essential when players hit the hard ground.
Players not only need to withstand the strongest of hits but need armour that is as light as a feather, and doesn't hinder their freedom to agilely navigate the pitch. The Atomic V3 does this and more. Its 4 way stretch enhances the full range of movements along with accelerating the pull of moisture away from the skins surface allowing the body to be kept dry whilst eliminating the chill effect and providing the optimum comfort.
Along with this incredible performance, the Atomic V3 Body Armour also offers a fantastic look. The geometric pattern is striking, representing the name of the product and the different colour variations can be tailored to the individual's preference.
The Atomic V3 is available in sizes Small Child to Large Child before moving into Adult sizes. The dedicated junior sizing means junior players can get out on the pitch and perform to their best without having to worry about picking up unnecessary injuries.
---
We Also Recommend